The JAMMA harness
Be careful when shopping for a JAMMA Harness, there is just so much crap out there. I don't know anywhere that sells decent brand new ones although DS (Arcade Japan) is currently working on this. I have a few of the cheap ones and they are cheap because they are shit. 
Note this is a brand new 'Chinese' harness. The pins are loose and are of poor quality, solder points are extremely shoddy, the pins are not marked on the edge as usual, (there's only Chinese writing), there's 17 unused pins, and even when they are used it's a waste of time, for example there's 1 power wire covering Ground. pins A,B,1&2 it's the same story on the +5 lines, C,D,3&4. Even though these power wires are clearly marked 18AWG the copper is as thin as a human hair, it just has an extra thick rubber outer. Complete junk!
If you are not yet familiar with the JAMMA pinout then nows the time to google. I've added a couple of extra columns for wire colour to the JAMMA pinout charts that I'm using for MY reference (one for each cab). Now the colour of the wires means absolutely nothing, there is no industry standard so any pin could have any colour wire coming from it. The information in these 'extra' columns will be specific to each of MY harnesses (that's why I have one for each cab). I'll just fill these 'extra' columns in as I go along. I've done this in the past and I've found it to be useful. 
Note on a JAMMA harness edge connector there is no pin, G, I, O or Q and there is both upper and lower case pins ABCDEF/abcdef
My pinout reference charts and home made ID edge connector labels. I only had acess to a B&W printer so coloured them in with felt tips  :awe: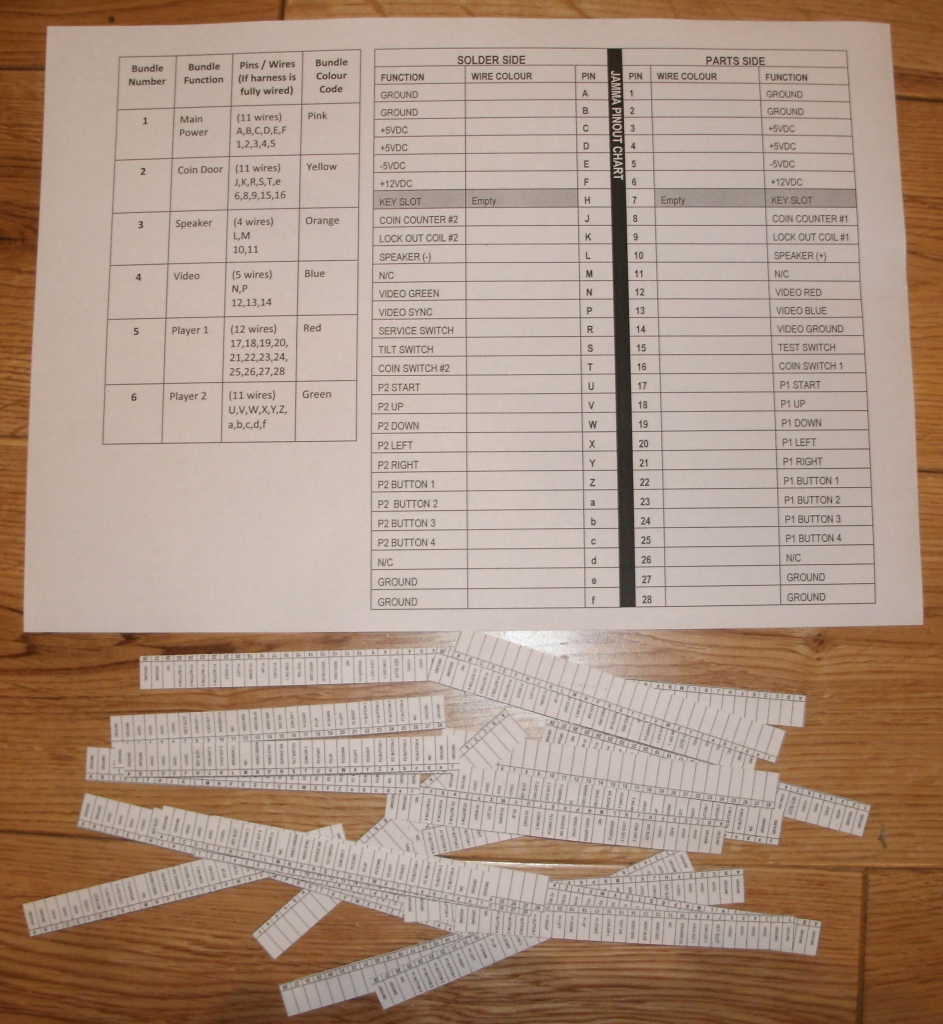 For my first cab
I got a pre loved JAMMA loom from Mo (videotronics) but I've no idea what cab it originally came from. It's a nice quality loom but was in need of a good clean and a few of the wires required some attention. The audio lines (10, 11, L & M) were connected to a large molex about 12" from the edge connector. A few of other wires had been cut and spliced, again near to the edge connector. None of this was really a problem at all but I found it unsightly so I just unsoldered these wires, cut them just past the connector / splices, then resoldered them back in place.
This is what Mo sent me (absolute bargain for £11.99 delivered, arrived in less than 24hrs too)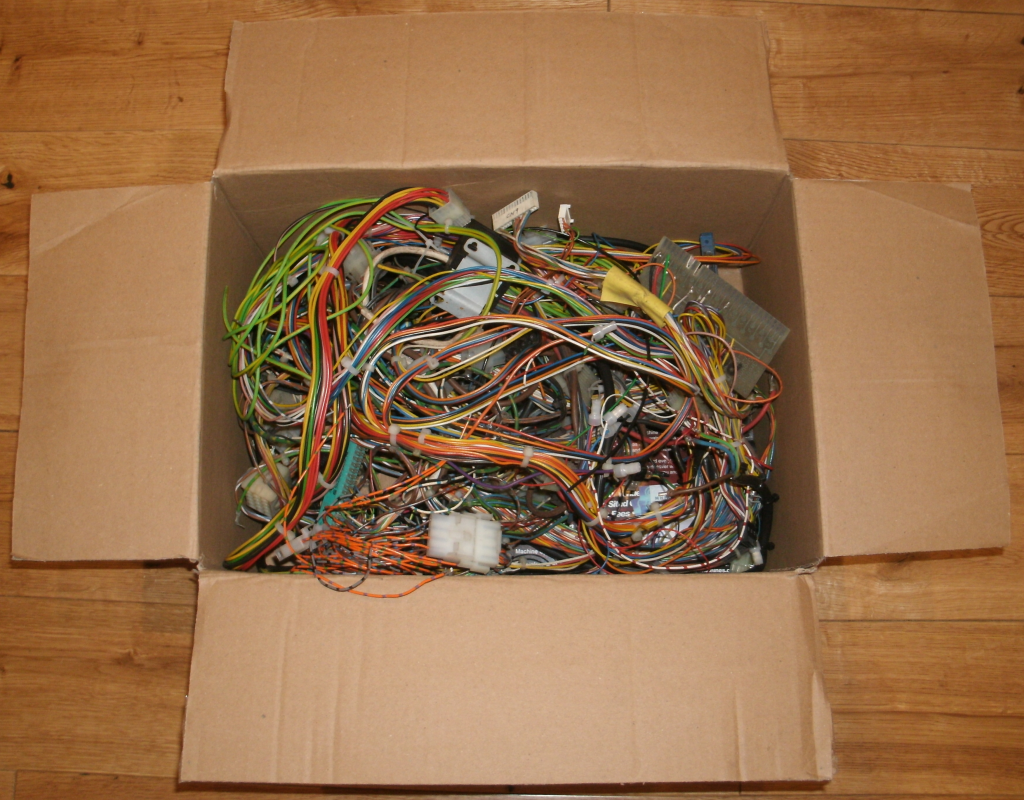 This is what I removed from the harness that I selected to use
I put the wires into 6 bundles (I saw this tip on Bob Roberts) so that's what all of the colours on the edge connector refer to. 
Pink - Power - A,B,C,D,E,F,1,2,3,4,5
Yellow - Coin door - J,K,R,S,T,e,6,8,9,15,16
Orange - Audio - L,M,10,11
Blue - Video - N,P,12,13,14
Red - Player 1 - 17,18,19,20,21,22,23,24,25,26,27,28
Green - Player 2 - U,V,W,X,Y,Z,a,b,c,d,f

Much better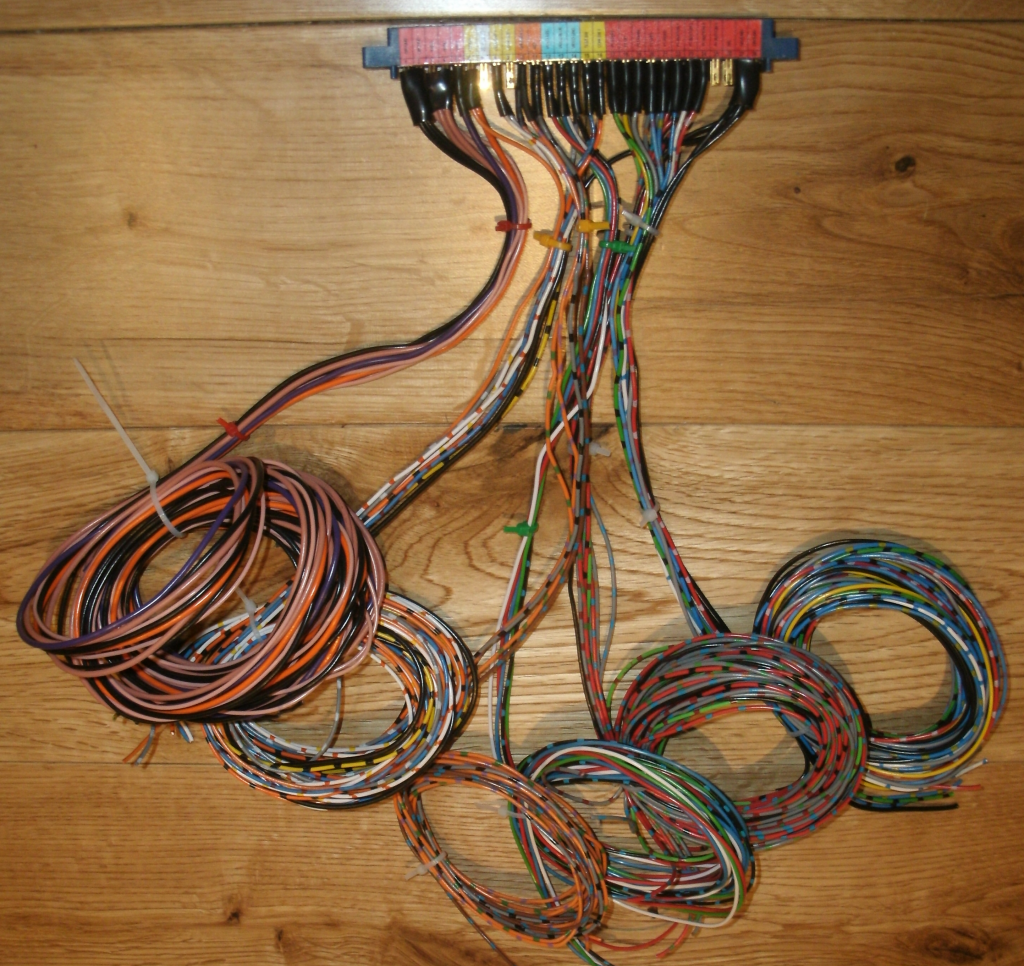 I need to test fit the loom for length then I can deal with the unterminated ends. But before I do that I want to finish the 2nd harness off which I started this evening. I had to call it a day though as it's bloody freezing in my garage.
For the second cab I decided to wire a harness from scratch. Its not a difficult job so don't be put off giving this a go. I'm not the quickest with an iron and I would say I'm a novice, I have basic soldering skills, but that's all that's required for this task. I already had everything I needed so it seemed silly not to make one myself. I thought I could save time by not wiring up the player 2 controls but as Franco quite rightly pointed out 
FrancoB wrote:

Strictly speaking no, you don't need to wire anything up to P2s controls if you're not planning on using them but I probably would add wires to them anyway as it's only a few extra wires to add and it would be much easier in future if you do end up needing them which would avoiding uninstalling the whole loom to solder them on if you hadn't added them initially.
What you will need is to make a JAMMA harness
Edge connector, I already had a few in my spares box
Wire. 54 lengths. Wire length depends on your model of cab. Depending where you get your information from, you'll need 12 lengths of 18/20AWG for the power wires and 42 lengths of 20/22AWG for the rest. Andy very kindly gave me a mountain of wire, I already had some and Mo sent loads of extras with his harness so I've got it coming out of my ears.
Heatshrink
Wire stripper
Soldering iron - I only have a budget 30w Antex that cost about £10, but it does the job
Solder (leaded)
Flux pen 
Helping hands is a useful tool to have too
Multimeter
Cable ties
Harness ID label - If you want me to email you the template pm me
This is how I did it.
Firstly I made and printed off a little colour coded ID label. I'll be putting the wires into 6 bundles as I did with the other harness. 
I then Keyed the harness. You can either melt a blob of solder on connectors H/7 or remove these pins and cut a bit of plastic to size and pop it in there. This will prevent any FUBARS as now the harness cannot be plugged in upside down. As stevebm1 quite rightly pointed out
stevebm1 wrote:

one thing worth mentioning for noobs,though is that if you do blob the keyway with solder on your jamma connector,you may not be able to plug in bootleg boards,as they don't always have the cutout,so you might be better using a plastic wedge,or have a small round file at hand to cut the keyway into your bootleg boards
I use wire strippers to strip the end of the wire then I give it a twist
I slip a length of heat shrink over the end of the wire and slide it up/ out of the way for later
When soldering I keep my iron tip clean and tin it with a little leaded solder
I always tin both the wire and the pin
I then apply a little flux with a flux pen 
I heat the pin and then bring the wire to the pin and apply a little leaded solder
I  use a multimeter to test continuity
I slide the heatshrink in place and use a lighter to shrink it
As I've so far only soldered about 15 wires to the harness I've not done this last step yet but I will bundle and cable tie the life out of it when it's fully wired. 
I'll add some photos of my home made one when it's finished  :)


Edited by paulie - 16 November 2014 at 9:19am